Election years offer unique opportunities to drive donations in a variety of ways.
Because 91% of U.S. adults learn about the 2016 presidential election from 11 types of sources and 83% of 18- to 29-year-olds learn about the election from at least one media source, you can bet the majority of your supporters care about this year's election and want to stay informed. Take advantage of the excitement and incorporate the election into your fundraising!
"DON'T BE IN A PARTY. BE A PARTY." – Kid President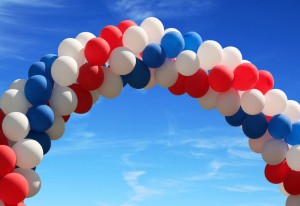 If you're willing and able to add a new event to your lineup, host a presidential election-themed fundraiser! If not, simply re-brand one of your already-forecasted annual events.
Decorate your venue in red, white and blue. From the American flag to political symbols like the donkey and elephant, the decorative possibilities are endless!
The event title should reflect the election/politics theme. The name could be very straightforward (e.g. Children's Cancer Group Annual Gala: 2016 Election Edition) or a play on words (e.g. Elect to End Children's Cancer, Children's Cancer Caucus, No Politics Party).
Host Debate Viewing Parties
Hosting a viewing party for any 1 or all 4 of the 2016 presidential candidate debates is a fun and easy way to raise funds. Viewing parties don't require much planning or a large budget. Plus, your venue options are vast, from the school gym to a sports bar (no tech setup!).
If your organization is located near 1 of the 4 hosting Universities, consider partnering with another local organization to maximize exposure.
Run a Campaign
Play presidential candidate and host your own "campaign" fundraiser. Be it a live event or online only, rally your supporters around one specific project or mission (not your organization's overall mission). Signage should include political parody messaging like "I approve this message".
For example, Bishop DuBourg High School of St. Louis is holding a "Gym Roof Campaign" to raise enough money to replace a leaky gym room.
Hold a Pseudo Student Election
Host Student Government and other academic/common interest group elections year-round. Educate "voters" by displaying the "candidates'" photos and their "platforms" on a OneCause Giving Center, where online donations to their campaigns (each campaign is a Donation Package) serve as "votes".
Get the students involved too! Consider hosting mock debates for older students, perhaps a project for government/history classes, and open attendance to your community to drive further donations via votes or even ticket sales. Allow elected student organizations to build their own Giving Center and use it to fundraise year-round.
Pseudo Junior Council / Young Leader Board Election. Host an election party for an honorary Council/Board position like "Gala Prince and Princess". Drive competition by allowing candidates to campaign and collect donations as votes. Supporters elect the most popular candidate with the most donations received.
Pseudo Nonprofit Board Election. Consider an election for a non-traditional Board position where nominations require a minimum financial donation. Candidates are typically community and business leaders who often bring greater exposure to your event and your mission. This kind of competition can result in big donations.
For example, the Georgia Chapter of The Leukemia & Lymphoma Society annually elects a Man of the Year and Woman of the Year. Campaigning "candidates" fundraise in honor of the Boy and Girl of the Year, "local cancer survivors and sources of inspiration for the candidates."
Political Silent Auction
Get creative! A silent auction doesn't require an event. Consider an online only auction. There are endless possibilities here.
Experiences:
Get your photo taken with the President (either a cardboard cutout or an impersonator!)
Lunch/dinner with nonprofit Board President
President of the Board for a day!
Obama-style vacation to Kailua on the Hawaiian island of Oahu
Items:
Political cartoons/artwork
Movies – All the President's Men, The American President, The Candidate, JFK, Air Force One, Election, Lincoln, In the Loop, Mr. Smith Goes To Washington, Nixon, etc.
Books – (auto)biographies, historical novels and coffee table reads
Selection of red and blue men's neck ties
Get more silent auction ideas here!
Best Practices:
Use a patriotic theme to brand your online auction site.
Share the link to your site and advertise your items before the event.
Make sure to emphasize your cause.
If you're going the strictly online route, remember: use high-quality photos of each item and send guest frequent updates on the auction!
For more on silent auction planning, check out our guide.
Voting Games
Competition almost always drives donations. Voting games, similar to a Dancing with the Stars competition, allow your attendees to "vote" by giving money to specific Donation Packages. For example:
Vote for your preferred political party (e.g. Republican, Democrat, Socialist, Independent Party Donations Packages)
Vote for a cause related to your mission (e.g. Donate in support of your favorite cancer prevention solution – Physicals/Tests, Healthy Eating, Exercise, Immunizations Donation Packages)
Vote for your favorite nonprofit Board/Council/Alumnae Member
Ensure mass participation by providing an incentive to donate votes. Offer supporters that donated to the winning Donation Package a small prize (e.g. $10 discount from a local merchant, free nonprofit-branded mug, etc.) or entry into a drawing for one larger, more expensive prize.
Invite a Local Politician
Be it as an emcee, a keynote speaker or a guest, having a politician attend your event is likely to drive ticket sales – especially if that individual's platform views support your organization's mission. Be careful to review what he/she will be speaking about to ensure his/her party affiliation or platform does not affect attendance or donations.
Can't get anyone? Consider hiring a Look-Alike or impersonator of the President or Presidential Candidates to entertain guests.
---
*Legal Disclaimer! This blog is for inspirational purposes only; OneCause is not providing legal advice. Consult your legal and tax advisement team when dealing in matters of politics as it relates to your organization's tax status. OneCause is not associated with and does not endorse any political party.
---
Not Done? Keep Learning with OneCause!
We've gathered a few additional resources for you to help inspire your use of OneCause's Fundraising Software: