Social Donor Conversion Funnel
The donor experience is central to keeping Social Donors as supporters. We've created the Social Donor Conversion Funnel to help nonprofits understand what they can do to maximize Social Donor retention.
The key lies in your organization's ability to maximize the donor experience at each stage of the conversion funnel. As you can see in the figure below, 54 percent of Social Donors say they will likely donate again to the same organization (yes, more than half), and 28 percent of this group say they are likely to become regular monthly or annual donors (that's almost a third with a likelihood to become year-round supporters).
This can mean an influx of new donors to your fundraising, only if you take the time to cultivate them the right way!
The ability to convert Social Donors into repeat or even regular donor won't happen on its own. You need to understand what they value and why they give, in order to foster a lasting relationship.
Each step of the process from the initial communications donors receive to the giving experience and follow-up,impacts not only their perception of your cause, but whether they want to stick around.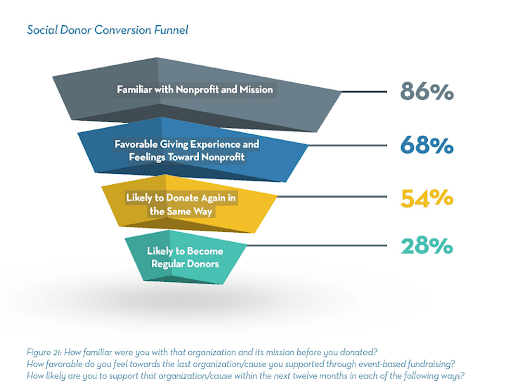 Dealing with Social Donors is all about establishing a long-term connection and moving them along the donor journey to loyal supporters. We laid out these six levers to help your nonprofit team increase the likelihood to convert Social Donors into loyal supporters.