We've Been Busy Innovating!
We're excited to share the newest Peer-to-Peer & Social Fundraising product enhancements to help amplify your cause.
1. New Challenge Site Templates
Creating new sites and donations forms is a snap.
Setting up new sites is even easier! Now, when you view your list of Challenges, there's a new 'Create Challenge' button. It contains a list of pre-configured Templates. All you need to do is customize the templates for your campaign, event or donation form.
For descriptions, click on the Template name in the list. All challenges default to test mode, so you can review before going live. To go live:
Go to Configure Challenge > Settings > Basic Information tab
Scroll down to click on the checkbox to switch from test to go-live mode.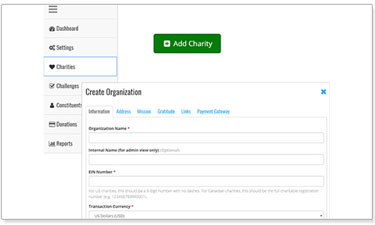 2. Challenge Defaults
Make it even easier for your team to create sites and donation forms.
You can define default settings that are common across sites and donation forms to make your team even more efficient. Define Challenge Defaults for:
Fonts
Analytics IDs
Message Templates (from name, from email, signature and support email to take inquiries)
When you create a new Challenge using Templates, your Challenge Defaults will be applied. You can also copy the following elements from another challenge site into a new challenge site:
Donation Levels
Donation Questions
Activities
And of course, you can always copy any Challenge site to create a new one. Your Challenge Defaults would not be applied to the new site you create.
3. "Donate-First" Challenges
Encourage your donors to fundraise for you.
One of the new Challenge Templates is a Donate, Then Fundraise Template. This is great for creating giving campaigns. How about engaging your donors by asking them to fundraise for you? If they fundraise, their donation credits the fundraising total on their page.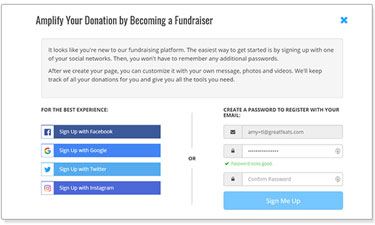 4. Embedded Donation Forms
Make your donation forms a seamless part of your website.*
Want to host your own donation form? Now you can embed any donation form within your own website, either as a modal or inline. With our design settings, you can customize your donation form to include colors and fonts consistent with your branding.
Here are links to donation form best practices:
*Note that depending on your Peer-to-Peer plan, your donation form features may vary.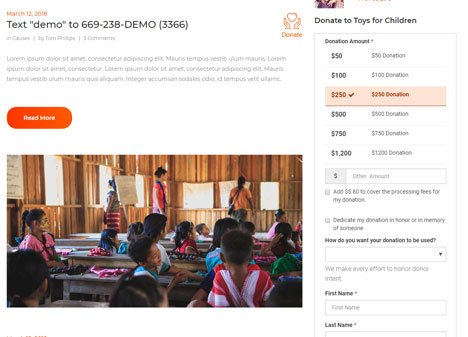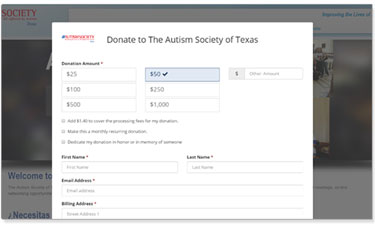 5. Shipping Address Option
Offering your donors premiums? No problem!
You can create a section in your donation form to capture shipping address and other custom questions (e.g., t-shirt size). You can even customize the section header. Fundraising made easy!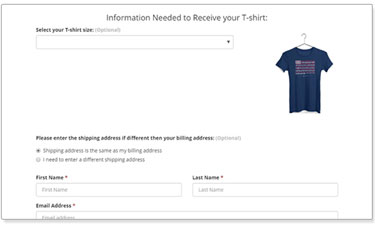 6. Multi-Challenge Reporting
Get easy access to all your data.
We know it's important to report across your challenges (e.g., reporting across all challenge sites for a Run, Walk, Ride). When creating reports from the Main menu, you can include one or more challenges and the associated secondary events and charities. You can also schedule reports and copy reports to create new ones.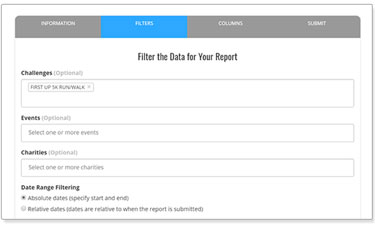 7. Multi-Charity Support
Supporting multiple charities or charity locations? We've got you covered.
If you're an organization with multiple locations or an organization creating challenges to benefit multiple charities, you will now see a 'Charities' menu option in your Main menu. Here you can create, edit and delete charities. Then simply associate each charity with specific challenges.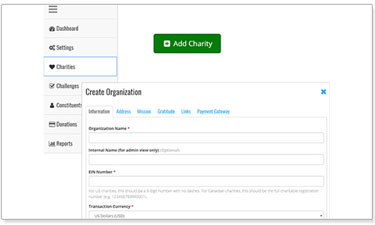 We're committed to delivery innovation that works for you.
We hope you're excited about these Peer-to-Peer & Social Fundraising enhancements!
Our commitment is continually find ways to innovate, and help you reach more and raise more. If have any questions, we'd love to hear from you!