Top Reasons to Attend RAISE 2018
RAISE 2018: THE FUNDRAISING CONFERENCE presented by OneCause®, is for nonprofit and fundraising professionals wanting to raise their fundraising game. Like Windy City pizza, it's hot, fresh and a MUST HAVE! 
RAISE is part interactive learning + part crowd-sourcing = and 100% FUNdraising! Join cutting-edge nonprofits for two days (September 24 – 25, 2018) of trends, best practices and sessions to unlock the innovator in all of us. 
Ready for more? 
 Here's the top 6 reasons to be at RAISE 2018, plus get details on early-bird pricing (only a few tickets left!). 
1.  Learn from fundraising experts
This conference provides a space for fundraising professionals to gather for 2 full days to learn from industry insiders. Three session tracks to challenge fundraising innovation: Event & Auction Trends, Thought Leadership & Success, P2P & Social Fundraising, plus product breakouts in the Tech Expo! 
2018 Topics include: 
Free-fallin' from 30,000 ft to a pixel

 

Me, Myself, and I: Running a One-Person Development Shop

 

Secrets of the 2nd Gift – the Key to Donor Retention 

 

Marketing Mixology: Blending marketing and fundraising for the digital age 

 

Creating the Wheel: The Guide to Introducing a Successful New Event

 

The Art of Introducing New Ideas into a Fundraising Juggernaut

 

Time is Now! Power of Positivity in NonProfits 

 

Event Analytics to Unlock Fundraising Potential

 

Superconnectors: What's New and Next in Building Audiences"

 

2.  Interact with amazing speakers 
Event fundraisers, industry experts and thought leaders across the country, will present fundraising best practices and share relevant trends. Featured speakers include: 
Lynn Page, JDRF, National Director Signature Events

 

Mike Wilkinson, Deputy of Director of Events, Human Rights Campaign  

 

Sophie Streeter, Loyola Academy, Director Special Events
Glen Fladeboe, Founder, Fladeboe Auctions
Jay Love, Chief Relationship Officer, Bloomerang
Chris Hammond, CEO, Corporate Giving Connection
Michelle Casserly, Special Events Officer, Meridian Health Affiliated Foundation

 

Benjamin Farrell, Custom Benefit Auctions
Jen Linck, Chief Marketing Officer, Corporate Giving Connection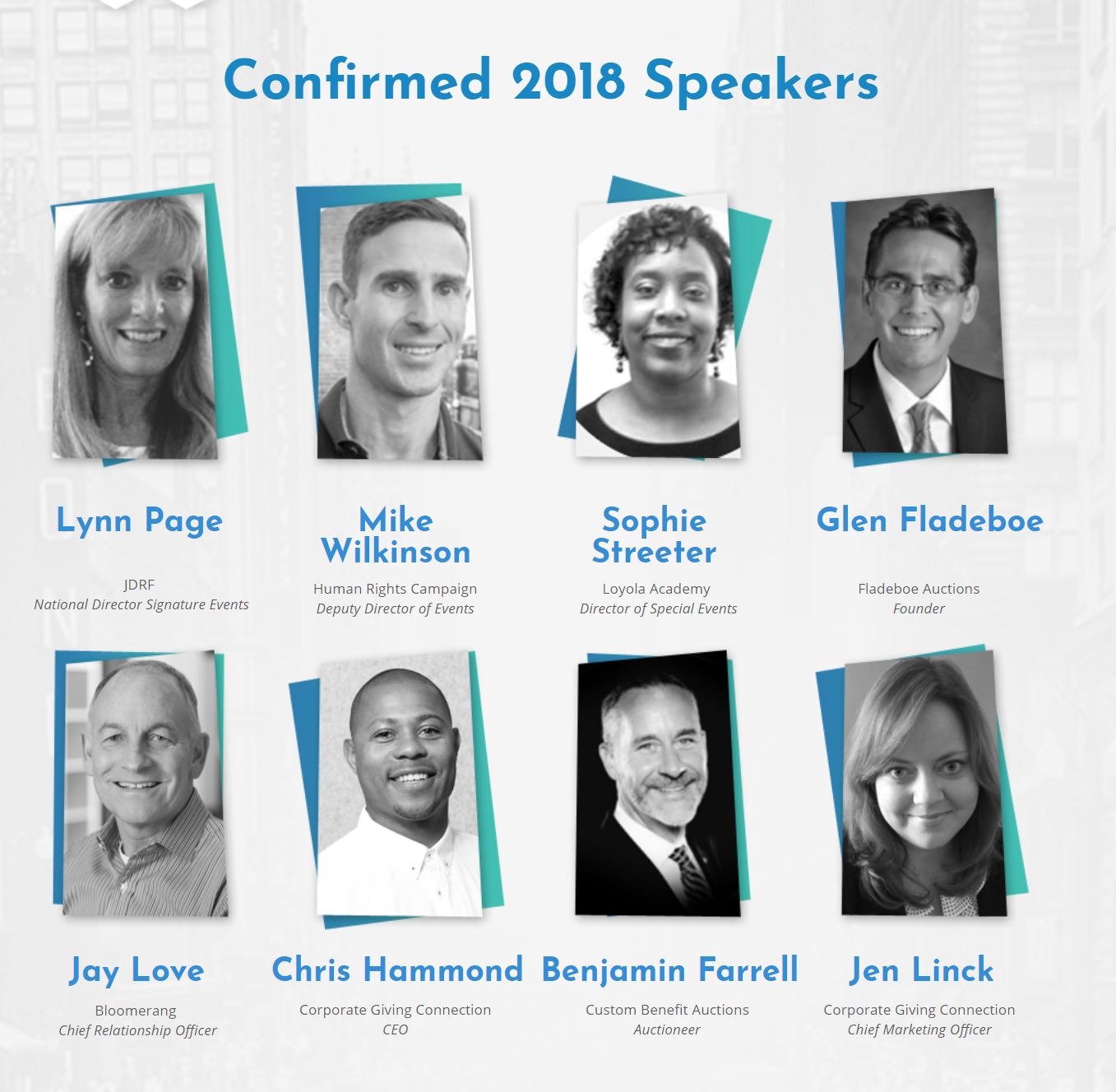 3.  All-Star networking, accommodations and fare  
At RAISE we believe, we're at our best when we share ideas and work together! So, we build in plenty of time for interaction and peer connections. Come meet like-minded fundraisers, industry experts, and expand your circle of contacts while having a blast! 
Raise takes place at the ultra-hip Hotel Palomar, in downtown Chicago.  Each day, fresh, fantastic food (breakfast and lunch) is catered from renowned Sable Kitchen and is included with registration. Monday features the Raise Fundraising Reception (nope, not your boring conference mixer…think Chicago summer!). Like the summer, tickets are going fast, so join the fun!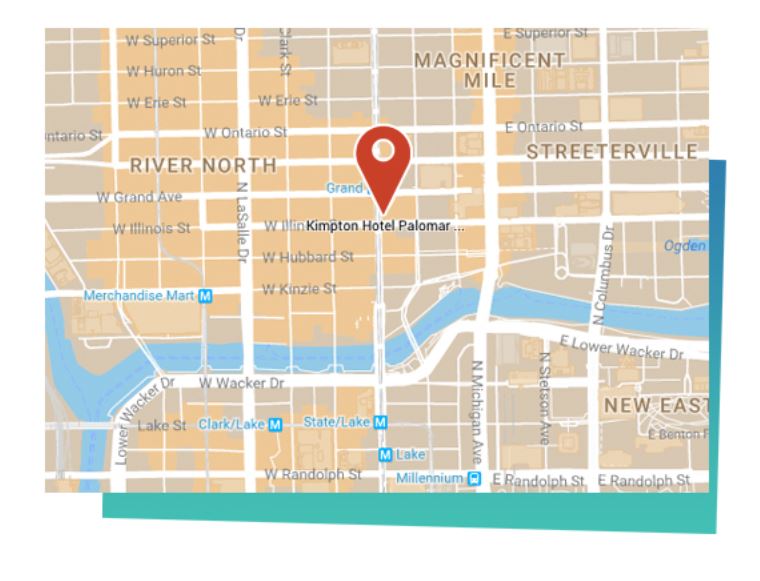 4.  Receive CFRE Credits 
Participants at RAISE 2018 have the ability to earn up to four Certified Fund Raising Executive (CFRE) continuing education credits. CFRE is an independent global organization that oversees a certification process for fundraising professionals. 
Full participation in RAISE is applicable for 4 points in Category 1.B – Education of the CFRE International application for initial certification and/or recertification. 
5. Explore Chicago 
Summer in Chicago is a must for anyone who loves art, culture, history, food, architecture – and yes shopping.  Ranked #2 Top City by US Tourists, the Windy City is the home of Raise 2018. And we couldn't be more excited! 
The conference takes place at Hotel Palomar, in the heart of Chicago's River North neighborhood. Raise has it all: Mag Mile, Nay Pier, Oak Street Beach, and some of the best dining in the city are just a short walk away. For those in search of sightseeing, Wrigley Field, Millennium Park, and the Chicago Museum Campus – all are a quick subway or taxi ride from the venue. 
Experience a new kind of conference reception…Cubs Rooftop extravaganza. Food, drinks, and unlimited FUN included with your conference admission!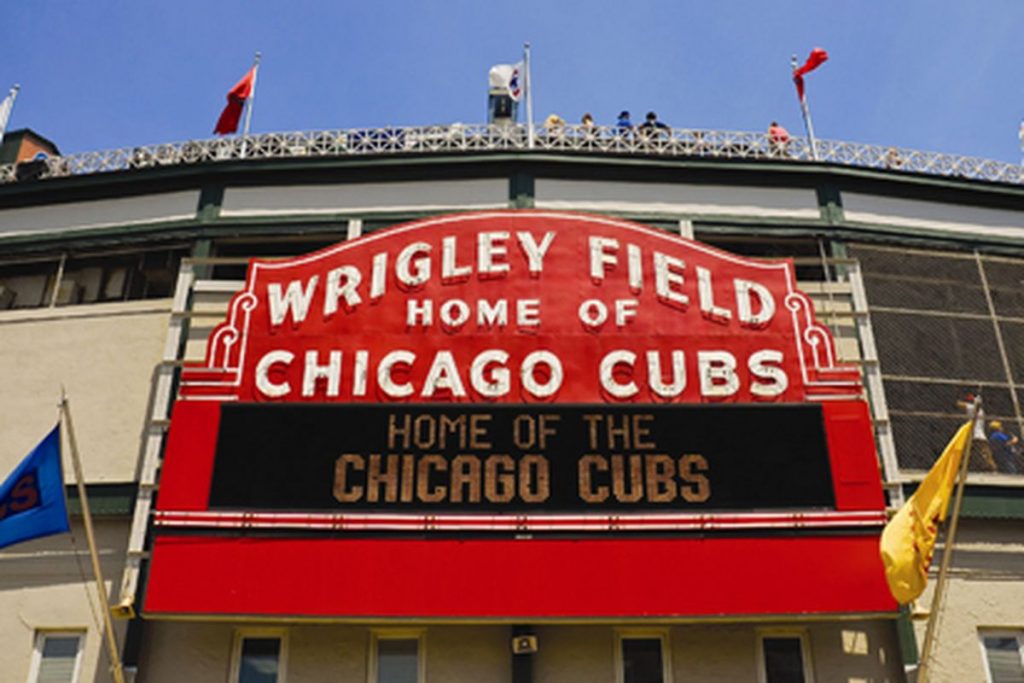 6. Meet our sponsors 
We value the power of partnerships. Raise 2018 features fantastic sponsors, well versed in supporting nonprofits and fundraising. Stop by our Tech Expo and meet them! We are grateful for the support of our amazing Raise partners: 
Early registration is $299 and includes 2 day conference admission, food, beverages, interactive sessions and social activities. Registration can be completed online at http://raise.onecause.com. Click below for the full schedule and to save your spot!