Building Up Your Nonprofit's Community Through Team Fundraising
Why do we support nonprofits?
Aside from the good vibes that come from giving to a worthy cause, studies show that friends, family and religious networks are an important factor in deciding whether to donate. Basically, we donate to be a part of a community.
Members of a strong community are encouraged to be more loyal and will more actively play a role in your organization's success, either from pressure by peers or pressure from their infrastructure (you as the nonprofit!).
As part of a community, they'll be more likely to be engaged in your programming and activities, attend events, and volunteer when needed.
Building a sense of community among supporters is critical to your nonprofit's success—donors will be more loyal to your cause, and supporters will be more likely to convert to ambassadors (and continue to grow your network organically by bringing in new supporters).
Team fundraising is an effective way to build a sense of community within your nonprofit and build up your base of ambassadors by encouraging them to fundraise on your organization's behalf.
By being a part of a community, they'll see the impact of their work multiplied by other fundraisers' efforts, and will feel empowered to do even more for your nonprofit.

Here are some ways you can use team fundraising to build your nonprofit's community:
1. Use Peer-to-Peer Fundraisers to Bring in New Supporters
Peer-to-peer (P2P) fundraising differs slightly from team fundraising in that P2P fundraising is a method of fundraising that leverages your supporters to fundraise on your behalf.
While team fundraising can include P2P fundraisers, it isn't required. However, it bears mentioning again: Peer-to-peer fundraisers are more likely to influence their friends and family (a.k.a., their personal community) to give, so they'll have a higher success rate in bringing in new support.
The science behind it is simple: If a friend asks for help, you're more likely to give than if a complete stranger asks for help!
Encourage P2P fundraising for your nonprofit by setting up a team of supporters, and make the "call to action" an ask to create a fundraiser to support the team's fundraising efforts. This will empower your P2P community to help you grow your network and bring in new support for your organization.
2. Build Support at Opportune Times
Do you receive fewer donations in the summer or fall? For most nonprofits, summer vacations and the end of the school year signal a drop in donations and the end of grant cycles. However, it's also the time of year perfect for walkathons, 5Ks, golf tournaments and other outdoor events.
An easy way to shore up support during the lull between your spring fundraising gala and end-of-year giving is to create a team fundraising appeal around an outdoor event that already exists for your organization.
Plus, you can use this time to draw attention to the fact that support this time of year is more critical than ever.
Or, use this as an opportunity to create a new appeal! Make sure it fits into the goals of your organization and will be easily replicated year after year. After all, the goal is to create something scaleable and sustainable for you to carry through into next season's fundraising strategy.
Check out the following resources for how to launch and run a successful team fundraiser:
3. Use the Subconsciously Competitive Nature of Humans to Your Advantage
People have a need to compete (studies suggest this is a biological trait needed for survival). It makes sense, then, that team members raise 17% more funds than individual fundraisers, according to Third Sector Today.
The sense of competition drives up engagement from fundraisers and translates into more donations for your organization. The transparency of a leaderboard that ranks your success publicly will help keep the competitive juices flowing and encouraging more engagement with your fundraisers.
Good team management will put "a focus on wellbeing" and "helps build the resilience of the team to cope with the inevitable highs and lows that can accompany a role of this nature," according to a study by Plymouth University and Sustainable Philanthropy.
This means that you're building that sense of community throughout the competition among your fundraisers by going through the roller coaster of the campaign together.
Need inspiration? Encourage your corporate partners or board members to set up fundraisers and compete on a team. Ask volunteers to create a fundraiser as part of a team page. These supporters will be among the most likely to stay engaged throughout the campaign.
Check out this Duane Morris team fundraiser that raised funds for Habitat for Humanity.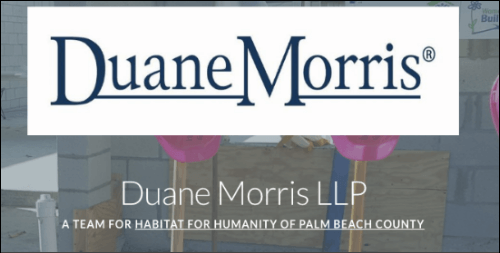 Our check out this list of really successful Team Fundraisers.
4. Host an In-Person Event.
While virtual fundraising can extend your community to other geographic areas (and accepting donations online is an easy, streamlined process for supporters), it's important to consider other income generators like auctions and event fundraising.
Host an event for your team members to meet one another and build the sense of community in-person.
There's nothing quite like seeing, literally, how much support an organization has and to see its community first-hand to make you feel like a part of something important.
Supporters will walk away telling their networks about their experience in-person and share personalized stories, which can help bring in new support for your organization.
In-person events have been shown as an effective way to build new support (which means you can control the message they hear at your event, unlike with P2P fundraising).
It's also an effective way to engage in networking, which may bring to light other forms of funding (e.g., a supporter may run marathons for charity as a part of their career, and you could encourage them to support your organization in their next race!).
—
Overall, the benefits of team fundraising will help your nonprofit in ways outside of just raising funds—you'll build a sense of community and loyalty, build out your ambassador-level support, and receive funds at an opportune time for your organization, among a host of other benefits.
So, what are you waiting for? Start a team fundraiser now!