Top 11 Peer-to-Peer Fundraising Best Practices
Your nonprofit has probably heard a lot about peer-to-peer fundraising, also known as social fundraising, lately. It's the newest fundraising craze, and it's easy to see why nonprofits love it so much!
Not only is it a great way to interact with your current supporters, it's also a solid method for bringing in lots of donations. Plus peer-to-peer fundraising enables your nonprofit to acquire new supporters.
If you plan on hosting a peer-to-peer fundraising campaign any time soon, you'll want to have these top 11 best practices in your back pocket.
Let's start by talking about what happens before your peer-to-peer campaign.


1. Start planning your peer-to-peer fundraising early.
You're already doing a great job of preparing for your campaign by reading these best practices (go you!), but one of the key influencers for the success of your peer-to-peer campaign is how your planning phase goes.
In order for your campaign to meet its goal by your deadline, you'll need to start planning months in advance. 
Why? There are many logistics that must be accounted for, and this is especially true if this peer-to-peer campaign is your first (take a look at OneCause's ultimate guide to peer-to-peer fundraising to refresh yourself on the basics). Specifically, you'll need to consider, among other things:
Purchasing software
Recruiting and training fundraising teams
Developing a marketing strategy, including campaign branding
Building a stewardship plan
Since these elements (and the myriad more involved in these campaigns) can take time to do well, it's important to budget your calendar with enough wiggle room to address these details in depth.
Additionally, you'll need to think about the timing of the event that you may be pairing with your peer-to-peer campaign.
Most P2P fundraisers end with some kind of active, group event like a walkathon or marathon.
If you plan on hosting an event like this, you'll need to schedule it around a time when people will want to be outside (i.e., not in winter).
For example, if you want to host your walkathon in June, you should start preparing your peer-to-peer fundraiser in November or December of the previous year.
Once you have your date selected, don't forget to set up a page on your nonprofit's website where supporters can register. By having your registration up several months before the event, donors can make the necessary plans to attend!
Bonus! Check out how peer-to-peer fundraising and crowdfunding differ.
Pro Tip: When preparing for your peer-to-peer campaign, make sure that everyone on your nonprofit's staff is on the same page. It's a lot easier to move forward when everyone knows what stage of the planning you're in.

2. Choose the right platform for peer-to-peer fundraising.
Arguably, one of the most important components of any nonprofit's peer-to-peer campaign is the platform they choose.
Your peer-to-peer platform will be used by your nonprofit's staff, your fundraisers, and your donors. Since everyone will interact with it in one form or another, it's important to choose the right software.
Some key features that you will want to look for when shopping around for a peer-to-peer platform include:
Easy set-up (for you and your fundraisers).
Customization options.
Sharing integrations (social media and email).
Integration with your other software.
Data tracking and reporting.
Message boards.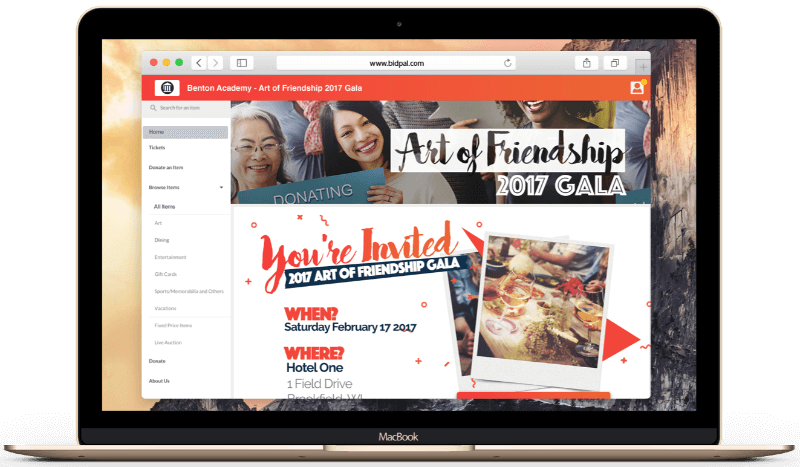 Of course, every peer-to-peer platform will have slightly different options for you to choose from. Prioritize the features you need and don't forget to factor in your cost! You shouldn't have to spend too much money to raise money!
Pro Tip: Your existing fundraising software might provide peer-to-peer fundraising as an additional service. Check with them before you start looking at other options.

3. Select your peer-to-peer fundraisers carefully.
Your peer-to-peer fundraisers will come from your existing donor and volunteer pool. These people will have demonstrated a passion for your cause either through their monetary donations or their volunteer time.
You'll want to look for the following qualities when selecting your peer-to-peer fundraisers:
Average donation size: Someone who gives $200 is likely more invested in your nonprofit than someone who gives $10.
Donation history: An individual who just gave to your nonprofit might not be as interested in raising money for your cause as someone who's been giving to your organization for months or years.
Other philanthropic history: With prospect research, you can determine which of your donors regularly interacts with other nonprofits.
Social media presence: Most peer-to-peer donations come from individuals on social media. A supporter who has a strong social media presence on several sites will be more successful during your campaign than someone who doesn't use social media.
Of course, not every supporter will possess all of these qualities. Plus, just because someone looks great in your donor database doesn't necessarily mean that they'll want to participate in your peer-to-peer fundraising efforts.
Pro Tip: Formally invite your supporters to be a part of your peer-to-peer campaign by sending them a letter. If they respond favorably, shoot them a "Welcome" email and an information packet about your campaign.

4. Train your peer-to-peer fundraising supporters.
While your peer-to-peer fundraisers might be excited about your campaign, the reality is that many of them will have never asked for donations before. And even if they have, they might not have done so during a peer-to-peer campaign.
It's so crucial to train your supporters properly before you send them off into the wide world of fundraising.
Training might consist of:
Group sessions (if your supporters live nearby).
Webinars (for remote supporters).
Information packets.
Email and social media post templates.
And more!
It might help to have all of your peer-to-peer fundraisers signed up for the campaign by a certain deadline so that you can train them all at the same time.
Pro Tip: Ask your supporters what resources they think they'll need to be successful during the campaign. They may need something that you didn't even think of!

5. Maintain cohesive branding for your peer-to-peer fundraising campaign.
No matter what materials you create for your peer-to-peer fundraiser, they all need to have the same colors, logos, slogans, and verbiage. In other words, your campaign's marketing and communication materials should be branded cohesively.
You may choose to use the same branding as your standard fundraising materials, and that's totally fine! Your nonprofit may also opt to brand your campaign as a separate fundraising entity with its own logo, slogan, colors, and more!
Either way, the importance of cohesive branding cannot be understated.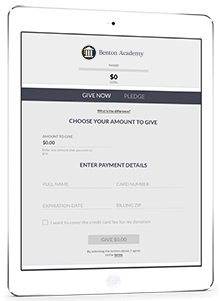 Cohesive branding helps your nonprofit's campaign stand out in donors' minds and enables you to establish trust between your organization and your supporters.
When your peer-to-peer page looks like your direct mail appeals…

which have a similar feel to your email updates…
which contain similar wording to your social media posts…

which has a similar look to your donation page…
your supporters can easily see the connections between each one. This makes your nonprofit seem more trustworthy, and donors are more likely to give to your campaign.
Pro Tip: Make sure that your peer-to-peer fundraisers keep their campaign pages similarly branded to your main page. While they should customize those pages with their own stories and images, they should keep your nonprofit's logo, slogan, colors, and other branding elements.

6. Offer incentives during your peer-to-peer fundraising campaign.
This tip goes for both your peer-to-peer fundraisers as well as the people who donate to your campaign.
Incentives are a great way to give your fundraisers a little acknowledgement for their hard work. Every time they pass a milestone, your nonprofit can offer them a different perk. 
For instance, if a fundraiser raises a certain amount for your nonprofit, they might receive a free t-shirt!
Similarly, you can set up fundraising perks to increase the contributions that your donors make to your peer-to-peer fundraising efforts.
For example, if a donor gives $50, they might receive a t-shirt. A $75 donation might get them a t-shirt plus a water bottle. Be sure to offer preset giving levels as displayed on the form to the left. This way, your donors have to do much thinking about the "right" amount to give and can instead simply select an amount you suggest.
These fundraising perks can get better and better the more a donor gives.
Pro Tip: Make sure that you find a company that can help you customize your products at a reasonable price. You shouldn't be losing money during your peer-to-peer campaign!

7. Gamify your peer-to-peer fundraising campaign.
At the beginning of your campaign, your fundraisers are motivated to start raising money for your cause, but ultimately, that enthusiasm and excitement might start to ware off.
How can you keep fundraisers motivated throughout the campaign?
To prevent the "peer-to-peer slump," turn your campaign into a competition. With bragging rights at stake, your fundraisers are more likely to stay engaged throughout the campaign to reach their goal.
Your organization can gamify your campaign by:
Using leaderboards. Display your top fundraisers and how much they've raised using a leaderboard. Donors will be more motivated to fundraise if it means seeing their name on the top of your list.
Giving badges for significant milestones. Badges are images that participants can place on their peer-to-peer pages to mark fundraising milestones. The more badges a fundraiser receives, the more money they've raised for your cause.
Displaying a fundraising thermometer. It's important to update donors on your progress. Having a fundraising thermometer for your overall campaign, as well as for each individual, shows participants how far they've come.
Offer prizes to top ranking fundraisers. Who doesn't love winning an awesome prize for their hard work? Motivate your fundraisers to finish the campaign strong by rewarding your top performers.
When gamifying your peer-to-peer campaign, it's important to evaluate your budget and the capabilities of your fundraising software. If making your fundraiser into a game is something your organization is interested in, look for a tool that has these features. Fundly has a full list of peer-to-peer fundraising platforms to help you find the right tool.
Pro Tip: Remember that part of keeping donors motivated is interacting with them. Keep people updated on the top fundraisers and let them know what they can win so that they have their eye on the prize.

8. Keep up with your peer-to-peer fundraising data.
If your peer-to-peer campaign gets started off on the right foot, then you'll probably have a lot of incoming donor data.
You could have anywhere from a few dozen to a few thousand new donors to log into your database.
Updating this information is critical. Not only will it allow you to get a deeper insight into your donors, but it will also help to start the stewardship process early. You'll need to start building relationships with these donors and provide them with more information about your cause.
You should be recording more than just the basic information in your new donor profiles. You should also include the following:
Donor status – Is this a first-time contributor or has this person given to your nonprofit before?
The campaign the donor contributed to – In this case, it would be your peer-to-peer campaign!
Any past engagement history – Have you sent the donor any information like a welcome packet or email welcoming them to your nonprofit? Tracking this information will ensure that you're always providing your donors with relevant content.
Your donor profiles should be stored in a centralized location like your CRM or donor database so that your entire staff has access to the information.
Of course, if your peer-to-peer fundraising software integrates with your CRM, this won't be a problem.
But even if this is the case, you'll need to have protocol for how you will log and segment your peer-to-peer donors. 
You might already have data standards for your donor database, but if you don't, here are a few things you might want to consider:
How will you standardize info (i.e., will addresses be abbreviated [St. or Street])?
When will you clean your data and segment donors (i.e., once a week, once a month, at the end of your campaign)?
Will you link donors to the fundraiser whose page they donated through in your database?
You'll also need to update information about your peer-to-peer fundraisers as they ask for and receive donations. If some fundraisers start to emerge as fundraising leaders, you'll want to make a note of it in your donor database. You should also track how much money each supporter raises during the campaign.
Pro Tip: Keep up with your incoming donor data on a regular basis. If you ignore it until the end of your campaign, you might get overwhelmed.

9. Make use of your communication channels throughout your peer-to-peer fundraising campaign.
Of course, all of your fundraising (peer-to-peer or not) should be multichannel. In a world where people digest information via mobile phones, computers, tablets, direct mail, email, and more, why wouldn't you try to reach donors via every method possible?
Here are just a few of the ways that you can promote your peer-to-peer fundraising efforts to potential donors:
On your website: The most obvious place to promote your peer-to-peer campaign is on your website. Most donors will find their way to your website to learn more about your cause, making that the ideal place to lead them to your peer-to-peer campaign.
Social media: A vast majority of peer-to-peer donations come from social media sites like Facebook and Twitter. Write short, punchy posts every few days or so to keep your followers in the loop and encourage them to donate.
Email: While social media is popular, email continues to be one of the most successful fundraising methods out there. Send out emails to your different email segments asking them to contribute to your peer-to-peer fundraising efforts.
Direct mail: Direct mail is your chance to really explain what your campaign is about and what the funds will be going toward. Spell out your fundraising need and tell recipients how they can contribute to your campaign.
Of course, your nonprofit shouldn't be doing all of the fundraising work. Peer-to-peer fundraising gets its name because it involves people (your supporters) asking their peers (their friends and family members) for donations.
Pro Tip: Give your supporters templates that are similar to the messages you send out via social media, email, and direct mail. This will ensure the cohesion of your peer-to-peer fundraising efforts.

10. Don't forget about peer-to-peer fundraising event logistics.
It might be easy to get swept up in the excitement of your peer-to-peer fundraiser, but don't forget about your event!
Your peer-to-peer event (typically a walkathon, marathon, or other energetic group activity) is the final component of your peer-to-peer fundraiser. It's a chance for your supporters, donors, and staff members to come together to celebrate your fundraising achievements.
But the logistics of your event shouldn't be put on the back burner, or you won't be able to bask in your fundraising victory.
Here are some best practices for preparing for your event:
Establish a specific committee to plot out the route, purchase any merchandise, plan the ending ceremony, etc.
Make sure that you have first-aid materials and an ambulance on stand by (if necessary).
Prepare snacks and refreshments for participants and onlookers.
Make sure you have things like event registration and checkout planned! See how easy registration can be with OneCause's solutions: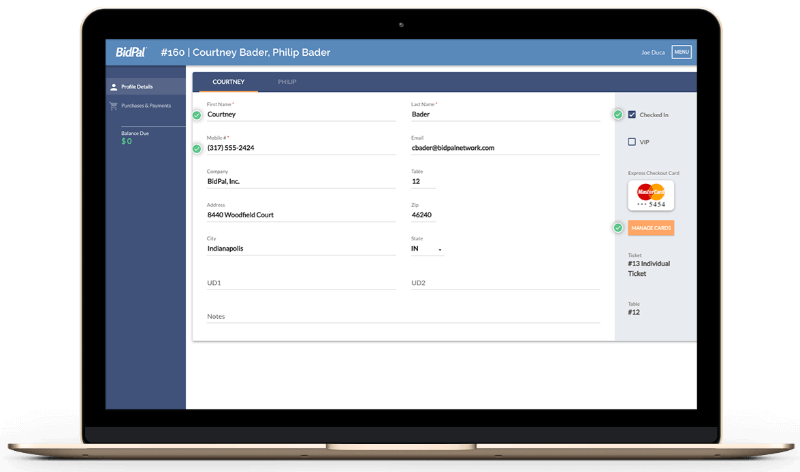 The more prepared you are for your peer-to-peer fundraising event, the more fun you and your supporters will have!
Bonus: Manage your event with a little help from OneCause's fundraising software.
Pro Tip: Enlist the help of some of your more eager supporters who might be interested in volunteering their time. They can help with preparation, set-up, and tear-down of the event.

11. Acknowledge everyone during your peer-to-peer fundraising campaign.
Once your peer-to-peer fundraiser and corresponding event are over, it's time to thank all of the people that made your fundraising dreams a reality!
Of course, the people who should receive the biggest thanks are your peer-to-peer fundraisers. Send each of them a personalized letter or card acknowledging their hard work and dedication to your cause and campaign.
Then, of course, you'll need to thank your donors for contributing to your fundraiser.
Depending on their level of involvement and the size of their donation, donors could receive anything from an acknowledgement email to a phone call from a leader of your organization. 
Regardless of what type of thank-you message your nonprofit sends out, the important thing is that you send one.
Donors and supporters who are not properly thanked for their efforts during your peer-to-peer fundraiser are less likely to donate to your nonprofit again.
Pro Tip: Within your acknowledgement, offer other ways for donors and supporters to stay involved with your nonprofit. This could be a volunteer opportunity, upcoming event, or a tour of your nonprofit's facilities.
---
Now that you have these 10 terrific peer-to-peer fundraising best practices, you're ready to go out and host your own amazing fundraiser!
Additional Resources